CREATING CONFIDENCE WITH EVERYBODY
Helping patients look and feel their best through surgical excellence and patient education.
Serving Scottsdale, Arizona and local areas.
Meet Dr. Richard J. Brown, an expert plastic surgeon with a passion for improving the lives of others through cosmetic and reconstructive procedures.
He approaches each patient interaction with patience, compassion and respect. Dr. Brown believes that thoroughly educating those considering plastic surgery is the best way to ensure beautiful, life-changing results.
Double Board Certified, Dr. Brown received his undergraduate degree from the University of Georgia and his medical degree from The Chicago Medical School. He then completed his General Surgery residency at Northwestern University in Chicago.
Dr. Richard J. Brown founded his practice, Brown Plastic Surgery in 2009 with the vision of creating a complete and personal plastic surgery experience focused on patients' overall health and wellbeing. He provides procedures for cosmetic body enhancements and breast reconstruction after breast cancer.
PATIENT EXPERIENCE & SATISFACTION
Patient experience and satisfaction is Dr. Brown's first priority. His vision is to inspire patients to become the best version of themselves. He prides himself on helping patients choose only those procedures that are right for them. As an expert Plastic and Reconstructive Surgeon, Dr. Brown is dedicated to helping others feel confident in their own skin.
In addition to being a skilled surgeon, Dr. Brown is a published Author of the book The Real Beauty Bible: Navigating Your Journey Through Plastic Surgery. His book is a comprehensive guide to body rejuvenation, and is a must read prior to having your procedure.
PERSONALIZED CARE AND PLASTIC SURGERY PROCEDURES
Regardless of the procedure or treatment you choose, you will receive exceptional personalized care from our Brown Plastic Surgery staff. We are committed to walking beside each patient throughout the entire process; start to finish.
Please contact us to schedule a consultation or to learn more about our financing options.
"The doctor-patient relationship is a special partnership that I take seriously, and I believe that open and honest communication between doctor and patient is very important. I strongly believe that educating patients is essential and at the forefront of my approach to your surgical journey."
-Dr. Richard J. Brown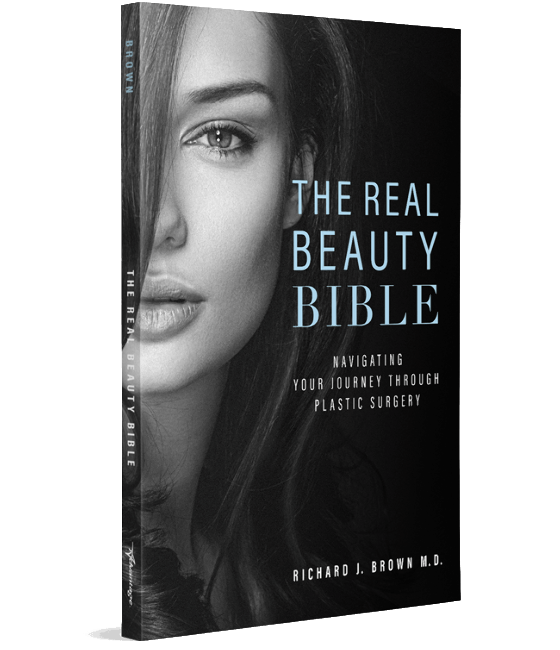 Get Your Copy of The Real Beauty Bible: Navigating your Journey Through Plastic Surgery
Includes Guidance of:
The important factors to take into consideration when choosing a board-certified plastic surgeon
Preparing for Surgery
What to Expect During Recovery
Coping with "Post-Surgery Blues"
Expressing your desire for plastic surgery to your friends, family, and so much more.
*Just pay shipping and handling